SÁCH AMAZON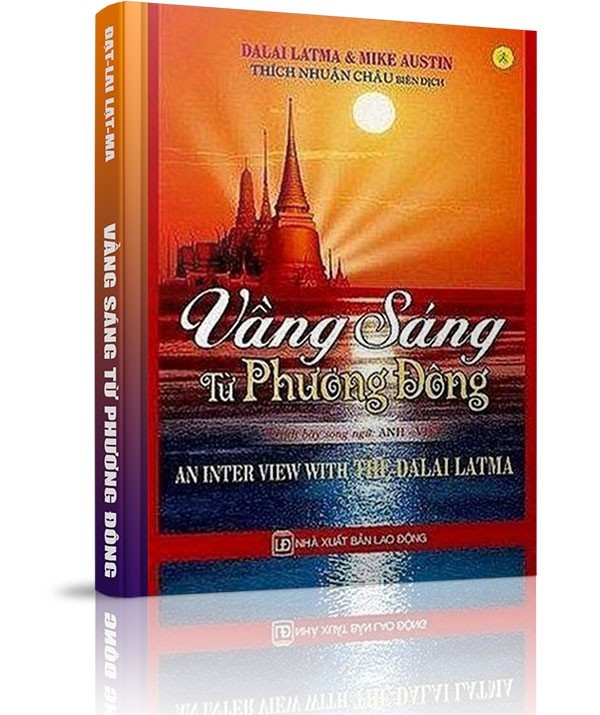 Mua bản sách in
Mike Austin: Could you elucidate from a Buddhist point of view, exactly what happens on a physiologic basis, during the whole course of cyclic existence; life, death and rebirth?
Dalai Latma: There are four states. The birth state is said to be momentary, just at the point of conception. The next moment is the beginning of the prior time state, ranging from when the coarse body starts to form until death. Then during the death state, even though it is taking place within the old body, the relationship of support and supporter of consciousness abiding in the body has been severed. At the point of death, the relationship of consciousness supported by a physical base, takes place only on the subtlest level. At this point, individual consciousness is conjoined with the subtlest inner energy or "air," as it says. For one who is going to pass through the intermediate or bardo states, as soon as the death state stops, the intermediate state begins.
In the intermediate states although one doesn't have a gross physical body, one does have a form - achieved through the interaction of inner air and consciousness. It is grosser than the most subtle body, but more subtle than the usual physical one we see.
Mike Austin: Does this have a shape?
Dalai Latma: Oh, yes. It will have the shape of the being which one will be reborn as. There are systems, however, which say that for the first half of the period of the intermediate state, the bardo body has the form of the past life, and for the next half, that of the life to come. Every seven days there is a small death which takes place to the bardo body. With seven such deaths occurring every seven days, it is possible to remain in the intermediate state for up to seven weeks, but no more. By that time one will definitely take rebirth. Beings in the intermediate state are like gods or spirits in that they do not have a gross physical body susceptible to many limitations. They can't be seen by ordinary sight. Among all those who do not have gross bodies - not just bardo dwellers - there are many different types: gods, demigods, spirits, etc. As in human society there are those who have no contact with Buddhist practice, those who have a little contact, some more, some less. The oracles generally speaking, are people like us, within cyclic existence. Such beings as Chenrezi among the society of gods, are persons who have already obtained enlightenment. Now there are many different types of Chenrezis. The compassion of all Buddhas in general, its manifestation in form, is called Chenrezi. Thus, this type of Chenrezi is not an individual being. However, just as Shakyamuni is a specific person, there is also a Chenrezi who is a specific person. Also, there are people like us who might take Chenrezi as a special deity. When that person becomes enlightened, he or she will appear in the form of Chenrezi. Because the person at the time of the stage of generation in Highest Yoga Tantra generated his or her self as such, he is designated with the name Chenrezi. However, they don't have to continue appearing just as Chenrezi. Simultaneously, they may appear in many different ways.
From a Buddha's own point of view one can only say that a Form Body is a final or highest Form Body. One cannot say that inwardly it is one way or another. It appears simultaneously in many different forms in accordance with the needs of the trainees and in dependence upon that Buddha's former wishes and prayers. Therefore, one Buddha would appear automatically and at the same time in the aspect of Chenrezi, Manjusri, Maitreya and so forth, according to the needs of the trainee.
Mike Austin: In connection with this, you know the story of Jesus Christ. What do you think about it?
Dalai Latma: Though one couldn't say definitely, it would seem that this was a case of an enlightened being manifesting in an appropriate way to lead others on. It is definite, though, that he was a superior being.
Mike Austin: These manifestations that appear like reflections in physical form of a higher being; do they have a sense of a relative sense of self?
Dalai Latma: There are many possibilities. For instance, a Bodhisattva who is able to do emanations could emanate himself as a certain being. Then that being would have a sense of "I." However, if that being in turn emanated out another form, then that one would appear to be a person, but wouldn't be. So there are many cases. Some have a sense of "I," and some do not.
Mike Austin: The second emanation would be an actual body with an actual consciousness, but would not have a sense of "I"?
Dalai Latma: The secondary one could perform the function of a human being, but wouldn't be a separate person. For instance, if an enlightened being emanated a hundred forms at one time, there would not be a hundred persons, there would still just be the one central being.
Mike Austin: Would the central emanator be simultaneously cognizant of everything occurring to the one hundred manifestations?
Dalai Latma: There are different levels here. For those of lower realization, it would be necessary for the central emanator to control each one separately. For those of higher realization, the emanations can control themselves. The factor of spontaneity and acting without exertion is involved here. It is the difference in where the control is. When one can spontaneously emanate forms without exertion, then each of the emanations is under his or her own control.
Mike Austin: Is such a person simultaneously aware of its own self as well as its existence as an emanation?
Dalai Latma: Yes. There are cases in which among one hundred emanations, each one knows what the other ones are doing. Certainly for a Buddha or a high Bodhisattva, this is true. But this is difficult to explain. Until one experiences it oneself, one might think that this was just talking about something that was senseless. Something like science fiction or religious fiction (laughter).
Mike Austin: To what degree do you feel the tulku system as it existed in Tibet was accurate? How many incarnate lamas discovered in the past do you think were genuine?
Dalai Latma: Oh, that is difficult. There are two things that are very important in this. One is that examining the tulku should be done very thoroughly. It's very easy for this examination or investigation not to be done properly. Secondly, we have got to see how the tulku leads his life. We have to judge by that also. The very purpose of voluntarily reincarnating is to produce some good result. Without that good result, then it is doubtful. The reincarnation takes rebirth with choice, intentionally, deliberately, with the definite purpose of serving humanity through religious or other means. Anyway, there must be some concrete result. In some cases where there is not this result, then I am doubtful. So I think fifty - fifty. It might be a little presumptuous on my part to say this.
Mike Austin: I know it's hard to generalize. How has it worked since you have come into exile in terms of discovering incarnations?
Dalai Latma: There are still a few who are being recognized. Some are quite authentic. Mainly it is the child's own behaviour: showing some significant signs.
Mike Austin: It's had, of course, to decrease in number, is that right?
Dalai Latma: Quite a lot! In the past you see, there was a population of six million. Now there is only one hundred thousand. If you compare, I think it has decreased quite a lot (laughter). We have some American lamas, also (laughter).
Mike Austin: What do you mean?
Dalai Latma: Yes. At least two, I think, recognized as Tibetan lamas.
Mike Austin: Can you say a little bit about them?
Dalai Latma: I don't know much.
Mike Austin: How can the certification process be applied to them? In the same way?
Dalai Latma: Maybe they themselves investigate it. I don't know the details.
Mike Austin: You, yourself, don't approve them?
Dalai Latma: I have nothing to do with this.
Mike Austin: I'd like to draw a parallel to what you were saying about one being emanating numerous forms. There are supposed to be about 100 trillion cells in the human body. Each cell performs functions that seem to indicate it has an individual consciousness. Yet they are all under the control of the same body. Could all sentient beings be related in a like manner, as parts of one organism? In other words, as components or emanations of a single body?
Dalai Latma: All sentient beings are of the same taste - in the sense of being the same type - in that the nature of their consciousness is mere illumination and knowing. Otherwise, they are not connected. If you suppose that many sentient beings come out of one source like a God, the answer is no.
Mike Austin: You feel that they are independent of one another?
Dalai Latma: Yes. They are separate. Even when they are enlightened, they remain separate though their realization is the same.
Mike Austin: What do you think is the nature of the consciousness of the 100 trillion cells?
Dalai Latma: Wouldn't there be a body consciousness pervading them throughout? For instance, where the eye sense is, within that matter, the eye consciousness holds or occupies that area. At the same time so does the body consciousness. The body consciousness pervades throughout the body.
Mike Austin: In each of these human cells, as we discussed before, there are thousands of genes, little pieces of chemical code that determine the nature of the whole body as well as the particular function of the cell they inhabit. Now within each cell the complete code for the whole human being is contained, yet only one gene is activated to produce the required form for its position, such as a toenail or eye or finger cell. What determines, do you think, the fact that the exact gene is activated and no other?
Dalai Latma: This is a physical function. It's body, not consciousness. It's held by consciousness, but the body performs the action.
Mike Austin: Before you stated that the mind and hence, beings, are beginningless. How far back then, does the memory of a sentient being go? Endlessly?
Dalai Latma: For people who are untrained, the more one's consciousness becomes subtle - such as at death - the more one becomes less aware. For one who is trained to utilize these consciousnesses, however, one has much greater awareness and much greater memory as the subtler states manifest. Among some people that I know, when a more subtle consciousness is produced, they are clearly able to remember seven, eight hundred, a thousand years back - with that consciousness.
Mike Austin: How far does the memory go back? Infinitely?
Dalai Latma: To go back a very long period of time, it is not sufficient merely to generate and utilize a subtle form of consciousness. For times way, way back, it is necessary to remove all the obstructions to omniscience. I am referring to super, super sensory objects far off in time and place. For instance, even though he had great clairvoyance, Shariputra did not know about a very subtle root of virtue that was in a particular trainee, but Buddha did.
Maudgalyayana's mother was in an extremely distant place in space and time and he didn't know where she was, but Buddha did. Since objects can be super, super sensory in respect to time or place, it is not enough just to manifest a subtle consciousness. One has to overcome the obstructions to omniscience, too.
Mike Austin: Are you saying that when those obstructions are overcome, both space and time are eliminated - that the knowledge of events everywhere in the universe; past, present, and future is simultaneous with their occurrence?
Dalai Latma: Time and space are relative. They are relative to a particular consciousness. What for us would be a year, for someone who has manifested a subtler consciousness, would be a shorter period of time. Also, it is possible for a person who has obtained great meditative stabilization to transform or change a moment into an aeon or an aeon into a moment - that is, for himself or herself only.
Mike Austin: Where is memory stored?
Dalai Latma: It is not just in the brain. At such times as we are discussing, it is not necessary to have a brain. Consciousness alone can apprehend the past events. It must be with the subtle consciousness. For example, when the subtle mind of clear light manifests at death, the brain is already finished. From the point of view of its cognition, it's called consciousness, and from the point of view of its engaging, or moving to its object, it's called inner air or energy. The very subtle air and consciousness are one undifferentiable entity. They are one entity differentiated only for thought or by way of their opposites.
Mike Austin: Within this energy - consciousness are there traces or imprints which contain all the memories? Is this very moment being imprinted onto that?
Dalai Latma: Yes. If you remember your last lifetime, the brain of that lifetime is no longer around, and this brain is new, right? So the picture can only be imprinted in the consciousness. This is similar to what the president of the University of Virginia described to me concerning the complete change of brain cells every several years.
Mike Austin: This most subtle consciousness - energy, is that what defines a sentient being as separate? Is this the ultimate demarcation point between one person and another?
Dalai Latma: There is a mere "I" which is designated in dependence upon the continuum of consciousness. There are two types of "I" or self: coarser and more subtle. There is the "I" which is designated on the gross mind and body and that which is designated on the subtle mind and energy. When the one is active, the other is not.
Mike Austin: Is the mind involved with the most subtle energy that which is beginningless, or is it a secondary function of the energy - consciousness imputed back on itself?
Dalai Latma: The very subtle mind and energy is the base of designation for the subtle "I." When you speak of designating the "I" to this energy mind, it's not necessary that the designator actually be among them. Someone once asked a question of a great geshay. He said that if a person was in a house looking at a pillar, that pillar could be designated to exist by thought, and he could understand that, but when no one was in the house, how could the pillar be designated?
So the geshay said, "Yes, it does seem difficult." Now, as soon as the questioner left, the geshay turned to a friend nearby and said, "Well, this person seems to think that a designating consciousness has to be wrapped around and tied up with every object." So you see, it means this. The fact that a designated object cannot be found to ultimately exist when sought in analysis, means that necessarily the object is just designated by a conceptual consciousness. Now, when you examine whether it is designated by this or that person's conceptual consciousness, ultimately you won't find that either. This constitutes a mode of ultimate analysis of something's being conceptually designated. You won't be able to find it. Thus, that things are conceptually designated is also without inherent existence. It's also empty.
Mike Austin: I'm not sure I understand. Is the "I" the subtle mind?
Dalai Latma: The coarse "I" is designated in dependence on the coarse mind and body. But even when they are not operating, there has to be an "I" designated. That is then designated to the subtle mind and body which are then present. For instance, a highly developed yogi who is able to manifest a subtler consciousness and at the same time view conventional phenomena, for that person there is an innate sense of "I" - not in the coarser sense, but in a far more subtle sense designated upon the subtle mind and body. There is nothing else to posit. If either the very subtle mind or energy were posited as the "I," itself, then there would be the fault that is set forth in Nagarjuna's Treatise On The Middle Way, that agent and object would be one, designator and designates, the appropriator and the appropriated.
For instance, when you say, "my mind," the controller or the owner is the "I." In the case you are describing, the owner and owned would be one - impossible. If you posited one of those as actually being the "I," this fault would be incurred. Because of this, it's not the case.
Mike Austin: What happens to the most subtle energy-mind, when a being becomes enlightened?
Dalai Latma: The "I" of a Buddha, the self of a Buddha, is this subtle "I." At the level of Buddhahood there is no coarse wind and mind. All of the five sense activities are done by the subtle energy and consciousness itself. Because that is all there is. It has become an omniscient consciousness. So at the time of the final vajra - like meditative stabilization of a learner one passes through in the forward process the four consciousnesses and then just the mind of clear light is left; one doesn't manifest ever again the coarser levels of consciousness. Thus, there would only be the subtle "I" which is designated on the subtlest mind. For instance, for Shakyamuni Buddha, who appeared with a coarse mind and body that we could meet with, for him you could posit a coarse "I" but just the appearance of such.
Mike Austin: Let me just ask you something else about the process of memory. When the human embryo develops, it goes through all the stages of evolution; fish, mammal, etc., that have led to human beings. Why do you think it has to repeat every stage?
Dalai Latma: It is due to the five fundamental and five secondary winds or currents of energy which control the human form. It must have something to do with the actual formation of these winds in the new body, but I do not know this well.
Mike Austin: And the memory of those past creations is inherent in each of these energy currents as they produce the physical forms?
Dalai Latma: The very subtle wind refers to the very subtle form of the life bearing wind. The upwards - moving wind has a relation with speech, spitting, and so forth. The pervasive wind has a function throughout the body. The fire - accompanying wind has the function of digestion of food and increase of the body's elements. The downwards - voiding wind has to do with the increase, holding and letting go of seminal fluid, blood, faeces, urine, and so forth. I haven't remembered this well so take care.